Customer Support
Trellian Direct Search Network
AB Testing
Some reasons to use A/B testing
Getting Better ROI from an Existing Traffic source.
Properly utilised A/B testing can provide a higher ROI in some cases, even some minor changes can result in significant increase in conversion rates.
Reducing Bounce Rates
Utilising A/B testing can result in lower bounce rates, you can achieve this by testing multiple variations of an element of your website untill you find the best possible version for your traffic source.
This improves overall user experience, and can get visitors spending more time on your site therefore reducing bounce rates.
Achieving Statistic based Improvements to your site.
A/B testing is entirely data driven reducing the need for the guesswork, you gain the ability to surmise a clear "winner" and a "loser" based on clear definable metrics.
E.g. Time spent on the site, number of contact requests, shopping cart abandon rate, click-through rates, and so on.
How to utilise A/B Testing
Log into you DSN Dashboard then click "Edit" next to the campaign you would like to use.

You will get a pop up this is where you can enter your Target URL (primary URL to send traffic) there is an option to add AB URL(s) these are Secondary URLs that you would like the keyword traffic sent to as part of A/B testing.
You can enter "negative keywords" this is for related keywords you would like to exclude from the campaign.
You will then need to enter in your bid amount under "My Bid:" you will also need to set a limit for amount spent each day under "Daily Spend Limit"
Frequency caps relate to the traffic share between URLs.
E.g. a frequency cap set to 6 means it will switch URLs every 6 visits.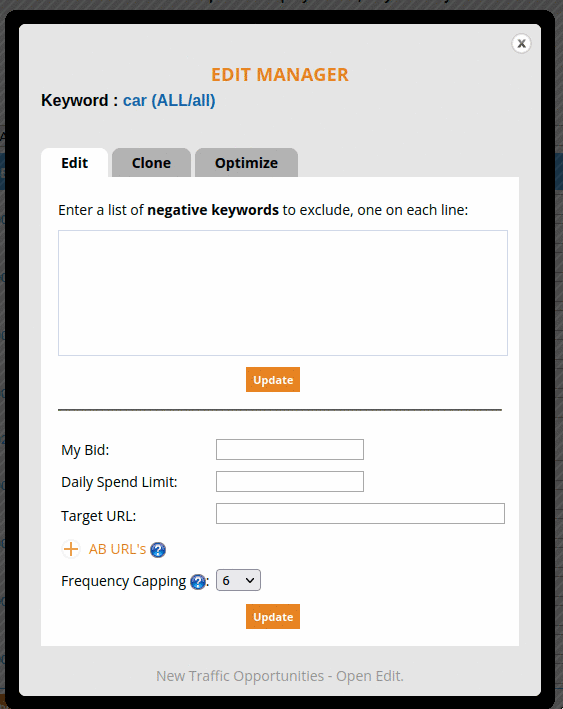 Once you are happy with your changes click "Update" to save changes.
Do you need help or have questions?
Our experienced account managers can be reached at: accountmanager@trellian.com or by calling +1 (310) 736-4230.