---
We are excited to see an article in DNJournal.com about the beta release of our Portfolio Manager dashboard.
It is a free service designed to help domain investors more efficiently manage portfolio data, make smarter decisions, and more quickly take actions to improve earnings.
For example, users will be shown revenue boosting opportunities associated with Above's Monetization AutoPilot platform.
AutoPilot drives revenues higher by finding the highest paying monetization channel for each domain visitor. Its Maximizer channel adds an extra revenue boost by enabling premium advertisers from company-owned Trellian Direct Search Network to bid on domain traffic.
A cost and time saving example involves Portfolio Manager's Consolidate feature. It displays domain expiration dates across all registrars and uses domain performance data from AutoPilot to help users make informed ROI-based renewal decisions. Users can also use an integrated calculator to determine cost savings from transferring to Above's Registrar.
The domain buying, selling and offer management process is also made easier with Portfolio Manager.
Portfolio Manager offers everything a domain investor needs. And it is all conveniently available via one dashboard that is fully integrated with Above's AutoPilot, Registrar and Marketplace.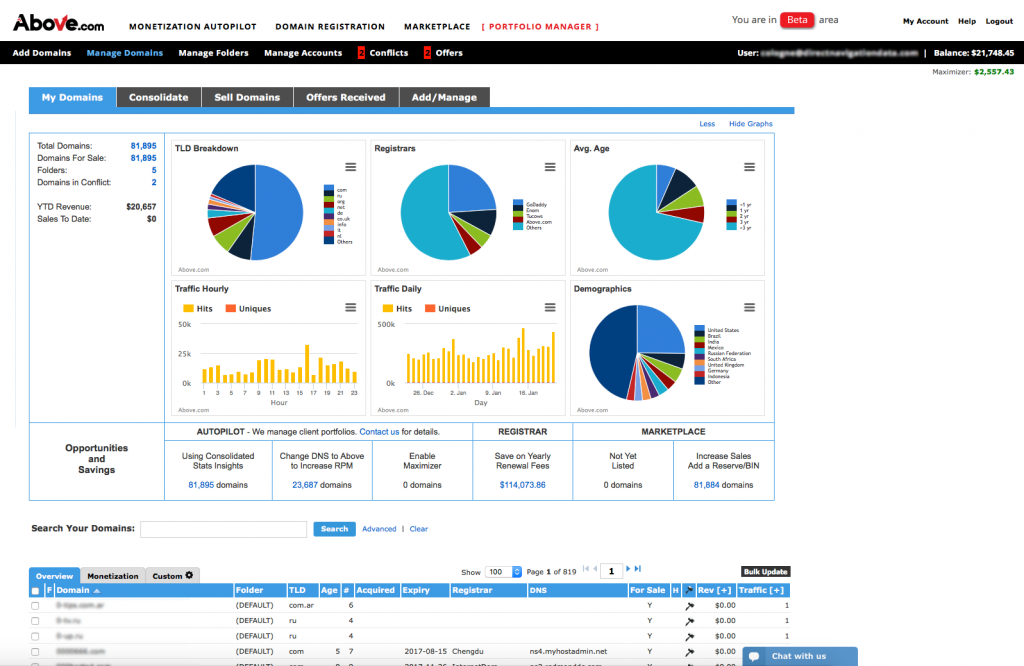 A full release of Portfolio Manager will be announced soon. In the meantime, domain investors are encouraged to login to the beta version and see for themselves the advantages it offers. Feel free to contact us via live chat with any questions.
---